Price

RM60.00

Product SKU
BKK4306
Brand
Raspberry Pi
Reward Points
60
Points Needed

3000

Availability
In Stock
Quantity
Description
DESCRIPTION
The Raspberry Pi is a small, clever, British-built computer that's packed with potential. Made using the same technology you find in a smartphone, the Raspberry Pi is designed to help you learn coding, discover how computers work, and build your own amazing things. This book was written to show you just how easy it is to get started.
To coincide with the launch of Raspberry Pi 4, Raspberry Pi Press has created a new edition of The Official Raspberry Pi Beginner's Guide book — as if this week wasn't exciting enough! Weighing in at 274 pages, the book is even bigger than before, and it's fully updated for Raspberry Pi 4 and the latest version of the Raspbian operating system, Buster.
LEARN HOW TO:
Set up your Raspberry Pi, install the operating system, and start using this fully functional computer

Start coding projects, with step-by-step guides using the Scratch and Python programming languages

Experiment with connecting electronic components and have fun creating amazing projects
​
CONTENTS
Chapter 1: Get to know your Raspberry Pi
Chapter 2: Getting started with your Raspberry Pi
Chapter 3: Using your Raspberry Pi
Chapter 4: Programming with Scratch
Chapter 5: Programming with Python
Chapter 6: Physical Computing with Scratch & Python
Chapter 7: Physical Computing with Sense HAT
Chapter 8: The Raspberry Pi Camera Module
Appendix A: Installing NOOBS to a microSD card
Appendix B: Installing and uninstalling software
Appendix C: The command-line interface
Appendix D: Further reading
Appendix E: The Raspberry Pi Configuration Tool
Appendix F: High Quality Camera setup
Appendix G: Raspberry Pi specifications
Appendix H: Raspberry Pi 4 Model B Safety and User Guide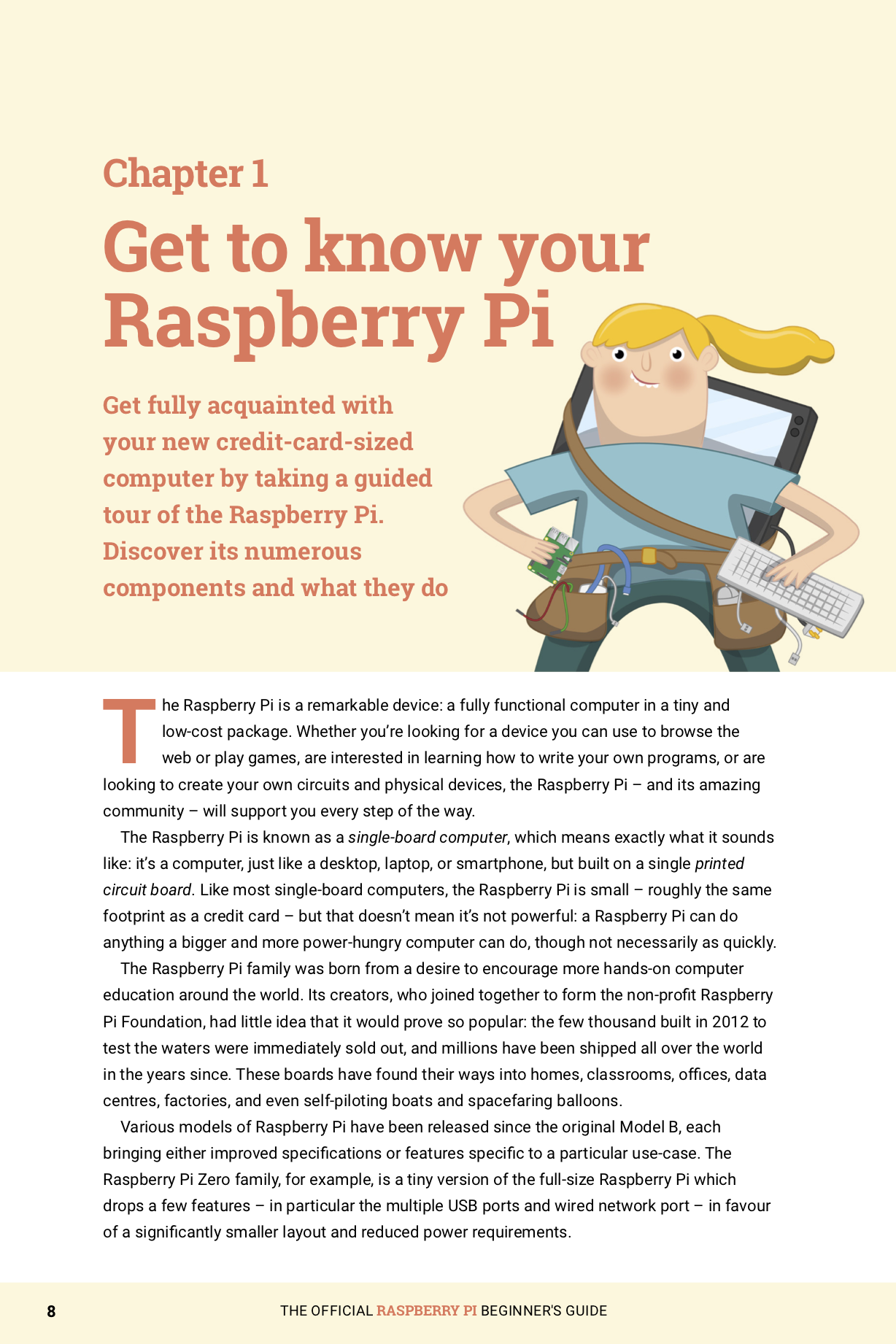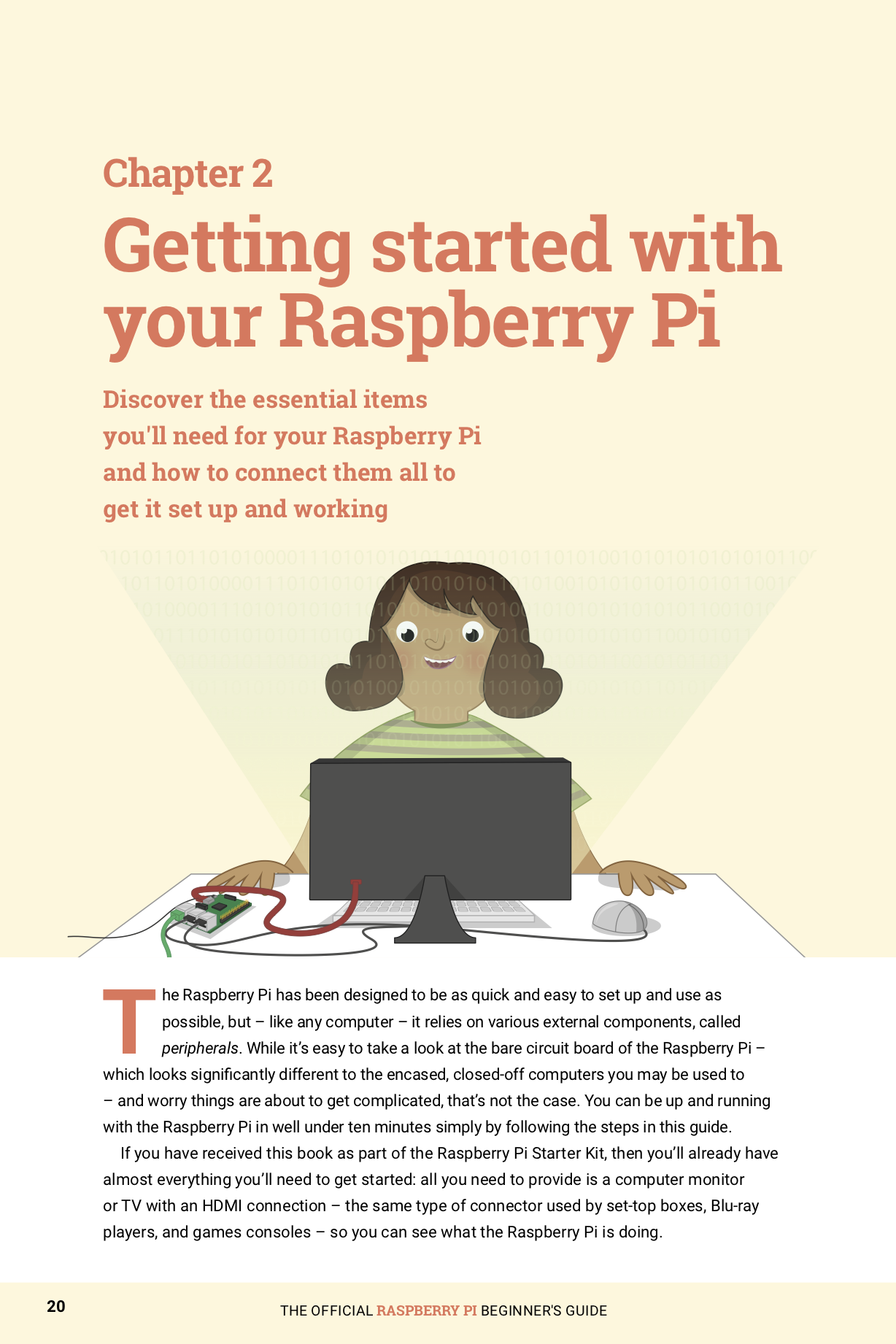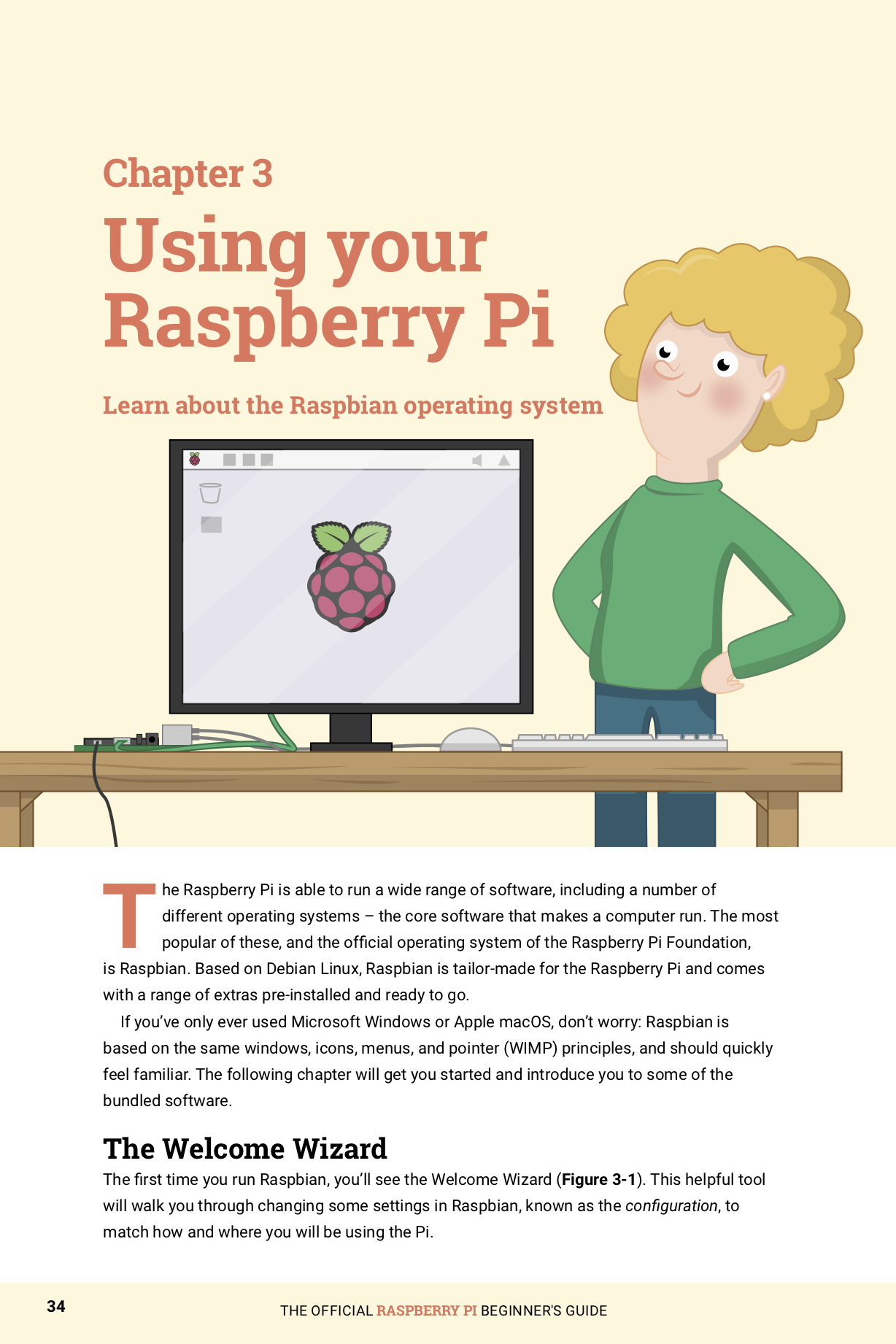 We've roped in Gareth Halfacree, full-time technology journalist and technical author, and the wonderful Sam Alder, illustrator of our incredible cartoons and animations, to put together the only guide you'll ever need to get started with Raspberry Pi.
From setting up your Raspberry Pi on day one to taking your first steps into writing coding, digital making, and computing, The Official Raspberry Beginner's Guide – 4th Edition is great for users from age 7 to 107!
Here's the link for Raspberry Pi 4 Model B:
PACKAGE INCLUDE
1 x Official Raspberry Pi Beginners Guide (Updated for Raspberry Pi 4)
Reviews (5)
view all
back
What's in the box
1 x Official Raspberry Pi Beginners Guide (Updated for Raspberry Pi 4)